News & Articles
Quiz - Supersonic Flight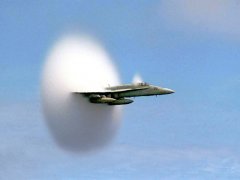 This photo shows a U.S. Navy jet:
A. Breaking through dense fog
B. Exceeding the speed of light
C. Exceeding the speed of sound
D. Dumping fuel
Photo: Navy Ensign John Gay, USS Constellation; nasa.gov
Best Answer: C. Exceeding the speed of sound. Because we at CavCom find all aspects of sound fascinating, we couldn't resist sharing this dramatic photo captured at the moment a jet breaks the sound barrier. The unique visual display is the result of quick condensation of moisture in the air, but you guessed the acoustic result, a "sonic boom." To learn more, and to experience some cool video/audio of supersonic flight, check out these fun and informative resources:
Supersonic Flight and Sonic Booms. Glenn Pew, AVweb Video.

NASA Armstrong Fact Sheet: Sonic Booms
NASA Education Series: What Is Supersonic Flight?
History of research in supersonic flight and breaking the sound barrier. JD Anderson, Jr., NASA History Project.