News & Articles
Be Thankful for Your Hearing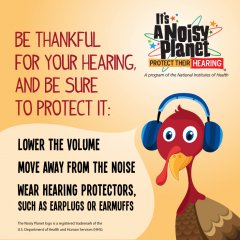 Help the young people in your life develop healthy hearing habits now. Check out It's a Noisy Planet, a public education campaign from the U.S. Department of Health and Human Services. Guidelines, handouts, posters, and games are available for download at no charge (some in Spanish); great tools for teachers and parents, too!
This national public education campaign is designed to increase awareness among children ages 8 to 12 about the causes and prevention of noise-induced hearing loss. It's a Noisy Planet website features fun and friendly informational sections for Kids and Preteens, Parents, and Educators & Health Professionals. Noisy Planet's three key prevention messages are:
Lower the volume
Move away from the noise
Wear hearing protectors, such as earplugs or earmuffs
The science-based material was developed by the National Institute on Deafness and Other Communication Disorders (NIDCD), part of the National Institutes of Health (NIH). With Noisy Planet tools and information, parents and other adults can encourage children to adopt healthy hearing habits before and during the time that they develop listening, leisure, and working habits. Share the message of hearing loss prevention with a young person today.