News & Articles
CavCom QUIZ: Edison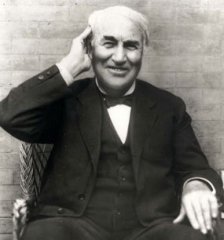 Thomas Edison holds the record for U.S. patents issued (over 1000). What was his favorite invention?
a) talking doll
b) alkaline battery
c) motion pictures
d) phonograph
e) incandescent lightbulb
(photo source: National Park Service, nps.gov)
Answer:
Although all of these innovations are surely considered among Thomas Edison's most important or unique contributions, according to the Thomas Edison National Historical Park, his favorite was d) the phonograph. He worked on the phonograph and pioneered many improvements over a span of 50 years. Despite being hard of hearing, or perhaps because of it, Edison had a deep appreciation of hearing and wanted to preserve important and everyday sounds.
For a fascinating listen of Edison's audio recordings, some dating back to the 1880s, visit the National Park Service's Edison Sound Recordings webpage.