News & Articles
CAVCOM QUIZ - respirable crystalline silica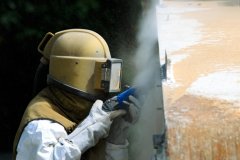 Without protection, workers exposed to respirable crystalline silica are at increased risk of developing serious adverse health effects:
a. Within a few months of exposure
b. Within 5 to 10 years of exposure
c. Only after 10 or more years of exposure
d. Crystalline silica is not hazardous
Answer: As with any hazard, actual risk depends on concentration of the hazardous substance, length of exposure, and individual factors/susceptibility. Possible outcomes of exposure to respirable crystalline silica include lung cancer, chronic obstructive pulmonary disease, kidney problems and silicosis, an incurable lung disease. Acute silicosis can occur after only a few months of exposure to extremely high levels of respirable crystalline silica. More commonly, exposures to lower levels of respirable crystalline silica result in chronic/classic silicosis (occurring after 10 years exposure to low or moderate exposures) or accelerated silicosis (5-10 years of high exposures). As the disease progresses, the worker may experience shortness of breath, fatigue, cough, and in some cases, respiratory failure.
For more information on respirable crystalline silica and worker protections: