News & Articles
CavCom QUIZ: Recreational Noise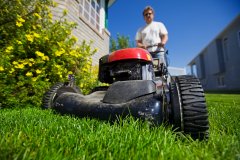 Which of the following recreational noise exposures poses the greatest risk to hearing if you are not wearing hearing protection?
a. Mowing the lawn for 2 hours
b. Attending a rock concert for 3 hours
c. Riding a motorcycle for 4 hours
d. Firing a shotgun 3 times while hunting
Answer: As always, there's a great deal of variability in individual susceptibility to noise and variability in noise levels associated with different types of equipment and activities. But most experts agree that the greatest immediate danger to hearing is posed by firearms noise.
Following is a summary of reported noise levels associated with various recreational activities as compiled by CavCom's Dr. Susan Cooper in collaboration with the University of Kansas. Hearing damage risk is based on a combination of sound level (in dBA) and duration of exposure: how loud, how long, and how often. Many recreational activities, including use of power tools or heavy equipment such as mowers/leaf blowers, attending loud concerts or sporting events, riding motorcycles, snow mobiles, or jet skis, all have the potential of damaging hearing if you are exposed long enough and often enough. Numerous studies of firearms, however, have shown that almost all firearms generate peak impulse levels that exceed recommend exposure limits with only 1 shot.
And whatever your combination of recreational noise sources and durations, the message is clear – protecting hearing off the job is just as essential as protecting it on the job!