Hearing Conservation for Mining Operations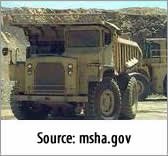 According to the National Institute for Occupational Safety and Health (NIOSH), one out of every four mine workers has a severe hearing problem. Hearing loss can interfere with a miner's ability to communicate with family, friends, and co-workers. Hearing loss, particularly in a noisy environment, can also present a safety hazard when workers are unable to hear moving machinery and warnings.
Metal and non-metal mining and mineral processing operations such as sand and gravel follow noise and hearing conservation regulations set out by the Mine Safety and Health Administration (MSHA) under Part 62. NIOSH also serves as a valuable resource for the mining industry through its Hearing Loss Prevention Branch which recently received the 2014 Research and Educational Excellence Award from the Society for Mining, Metallurgy & Exploration. This group was recognized for its research into better understanding noise exposures experienced by underground workers and helping develop commercially available noise controls to reduce those exposures. To learn more about hearing loss prevention for mining and mineral operations, visit: http://www.cdc.gov/niosh/mining/topics/HearingLossPreventionOverview.html.
Related Articles
Categories