Sonic Attacks in Cuba?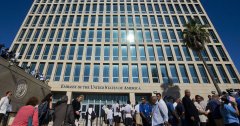 We all remember the news last year – U.S. diplomats fell ill after hearing strange sounds on assignment in Havana, Cuba. Now, nearly a year later, physicians and scientists have arrived at a frustrating conclusion: many embassy employees show symptoms of traumatic brain injury, but the source is still unknown.
Theories of poisonings, biologic attack, and ultra-sonic weapons immediately proliferated. Diplomats were removed from the embassy in Havana, the U.S. State Department issued travel warnings, and Congress held hearings to investigate. By late 2017, 24 of 80 embassy employees had been diagnosed with mild traumatic brain injury. After extensive medical evaluation, researchers from the University of Pennsylvania School of Medicine published results of a preliminary review of medical findings in the February issue of the Journal of the American Medical Association.
Injured diplomats consistently reported exposure to auditory and sensory phenomena coming from a distinct direction in their homes or hotel rooms. Patients experienced headaches, sleep abnormalities, and cognitive, balance, visual and auditory problems. Because of neurological symptoms, these individuals were referred to an academic brain injury center for multidisciplinary evaluation and treatment. Upon review of the medical data, researchers determined that the diplomats had sustained injury to widespread brain networks without associated head trauma. Although the origin of the injuries is still unclear, many experts are skeptical of sonic attacks. And so, studies and debate will continue.
To learn more:
Swanson, Hampton, et al. (2018). Neurological Manifestations Among US Government Personnel Reporting Directional Audible and Sensory Phenomena in Havana, Cuba. Journal of the American Medical Association, 319(11):1125-1133. doi:10.1001/jama.2018.1742
Related Articles
Categories