Cell Phone Accessories
Turn your cell phone into a high noise communication tool.

Equip Your Cell Phone For Extreme Noise
CellEarz™ Technology
Cell phones aren't designed for high noise communication, that's why we offer CellEarz™ from CavCom. This revolutionary solution upgrades the functionality of your cell phone with custom or universal CellEarz™ earsets specifically designed for protection and binaural listening and a high-performing inline mic for clear communication even in extreme-noise environments.
Hearing Protection
Noise reduction rating (NRR) up to 29
Customizable
Multiple earset options including custom-fit and universal styles
Clear, Crisp Audio
Superior audio clarity for cell phone audio in any environment
Phantom™ Headset for Android
Compatible with most Android cell phones
Multiple earset options including custom fit
Hearing Protection options (NRR up to 32)
Flexible noise-cancelling boom microphone
Weighs less than 6 oz
Learn more about CavCom's communication and hearing protection solutions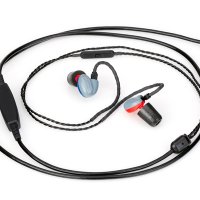 Explore CavCom communication accessory options

Does Noise Increase the Risk of Accidents?

Free App for Measuring Sound