Cell Phone Accessories
Turn your cell phone into a high noise communication tool.

CellEarz™ Lightweight Earset
Cell phones aren't designed for high noise communication, that's why we offer CellEarz™ from CavCom. This revolutionary solution upgrades the functionality of your cell phone with custom or universal CellEarz™ earsets specifically designed for protection and binaural listening and a high-performing inline mic for clear communication even in extreme-noise environments.
Hearing Protection
Noise reduction rating (NRR) up to 29
Customizable
Multiple earset options including custom-fit and universal styles
Clear, Crisp Audio
Superior audio clarity for cell phone audio in any environment
Classic™ Headset with Bluetooth
Ideal for high noise environments where communicating clearly is critical. CavCom's Classic™ heavy duty headset offers superior hearing protection with comfortable gel earseals and clear voice transmission from a top-of-the-line noise-cancelling boom microphone. Low-profile headband is hard-hat compatible. Bluetooth option allows wireless connection to cell phones and other BT-enabled devices, with or without cable connection to a traditional two-way radio.
Learn more about CavCom's communication and hearing protection solutions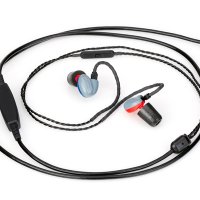 Explore CavCom communication accessory options

Does Noise Increase the Risk of Accidents?

Free App for Measuring Sound