CavCom Introduces New Consumer Line

You know us as the leader in innovative commercial hearing protection and communication systems. Now we're heading off the job site to make sure you are protected in every environment. CavCom's recent acquisition of the WildEar brand is focused on bringing our hearing protection products into the personal lives of our current commercial customers and the general public.
We know how high to moderate noise exposure can affect your daily life in the long term and how debilitating hearing loss can be. We also understand that the exposure risk is not only at work. That is what makes us very excited to get proven products into the hands of the recreation shooter, the powersports enthusiast, the yardwork lover and the weekend warrior.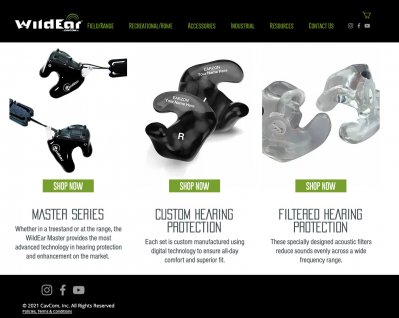 "CavCom has been providing superior hearing protection solutions to industry for over 20 years. Our team is passionate about the importance of hearing protection on and off the job. We are excited to use our expertise and experience that we've gained while working with industry to develop and introduce innovative hearing protection products for recreational use." says President Beth Orton
WE ARE CERTAIN YOU'RE GOING TO LOVE THESE PRODUCTS!
PLUS, current CavCom customers have the opportunity to purchase custom WildEar products without the hassle of getting another ear impression. Purchase now at WildEar.com and choose "Impression on File" when adding to the cart.
Visit our online store WildEar.com
Related Articles
Categories