CavCom Introduces Talk Through Your Ears
®

5000 and 6000

August 16, 2023

By Katie Macke

We are pleased to announce the newest generation of our flagship invention Talk Through Your Ears®. For more than 25 years, CavCom has been developing technologies to maximize two-way communication capabilities for high noise environments and applications that require respirators, helmets, or protective suits. The new Talk Through Your Ears® 5000 and 6000 system is the clearest, lightest, and most versatile product we've ever made - you won't believe your ears!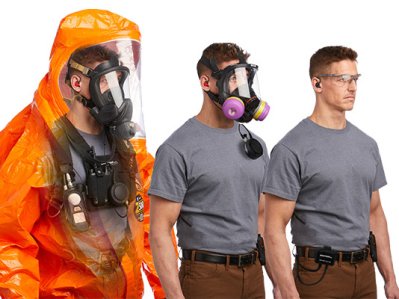 The new earsets boast advanced microelectronics that provide enhanced speech clarity with dual ear reception to maximize listening capabilities. The entire system is ultra-lightweight (less than 9 ounces) and is powered by the radio – say goodbye to extra battery packs! Talk Through Your Ears® 5000 (large) and Talk Through Your Ears® 6000 (small) PTT button options are available to fit any PPE or application. Talk Through Your Ears® connects to most two-way radios. Use your own radio, or CavCom offers a variety of makes and models of two-way radios to fit customer needs and budgets.
CavCom is a true partner working directly with our customers to solve their unique challenges. We expertly tailor solutions to the needs of our customers by collaborating with safety & health personnel, management, and end-users. Warranty, repairs, and customer service are also handled directly to ensure optimum customer satisfaction. On-site product demonstrations are available upon request. Request a demo today!
The future of communication is here and Talk Through Your Ears® is leading the way.
Related Articles
Categories