Guidance for Recreational Firearm Noise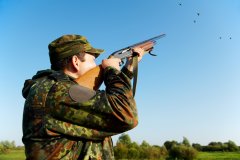 Research shows gunfire to be one of the leading causes of noise-induced hearing loss and tinnitus (ringing in the ears). Recent legislation has been introduced to loosen restrictions on gun suppressors; supporters say reducing noise from guns would protect shooters' hearing. To provide more guidance on this matter, the National Hearing Conservation Association (NHCA) has published a position statement on firearm noise.
On March 16, 2017, the NHCA approved a document prepared by its Task Force on Prevention of Noise-Induced Hearing Loss from Firearm Noise. The NHCA Task Force developed the guidance document to assist hearing conservation professionals in managing and mitigating the risk of noise-induced hearing loss and tinnitus from firearm exposures. Strategies that can reduce the risk include wearing appropriate and properly fitted hearing protection, choosing smaller caliber firearms, using specialized ammunition, shooting in a non-reverberant environment, and avoiding shooting in groups. Although using firearms equipped with noise suppressors can help reduce the level of the sounds, the Task Force warns that suppressors do not eliminate risk.
For more information:
Targeting Hearing Protection, CavCom SoundBytes
NHCA Position Statement: Recreational Firearm Noise, 2017
Hit the Mark: Firearms training without damaging your hearing. NIOSH Science Blog, March 3, 2017
Related Articles
Categories