Back to School - Educator Resources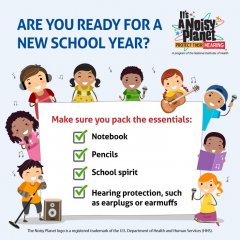 Help the young people in your life develop healthy hearing habits now. Check out these campaigns designed specifically for educating school-age children on the hazards of noise and protecting hearing. Many guidelines, handouts, posters, and games are available for download at no charge (some in Spanish); great tools for teachers!
It's a Noisy Planet is administered by the U.S. Department of Health and Human Services. This public education campaign is designed to increase awareness among children ages 8 to 12 about the causes and prevention of noise-induced hearing loss. It's a Noisy Planet website features fun and friendly informational sections for kids and preteens, parents, educators and health professionals. Noisy Planet's three key prevention messages are: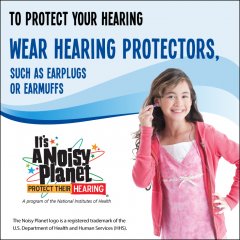 • Lower the volume.
• Move away from the noise.
• Wear hearing protectors, such as earplugs or earmuffs.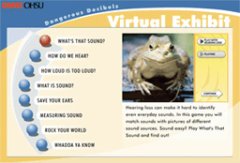 Another teacher favorite is Dangerous Decibels. The Dangerous Decibels project is based on a collaboration between basic science researchers, clinicians, museum educators, health communication experts, teachers, and public health professionals. Teachers can request a free Educator Resource Guide that includes curricula and a collection of hands-on activities, background information, and experiments that can be used in the classroom. Be sure to check out the online Virtual Exhibit for interactive games, demonstrations and activities that will entertain and educate young people on the importance of protecting hearing.
Related Articles
Categories