NEW Foam eartips with TechDefender barrier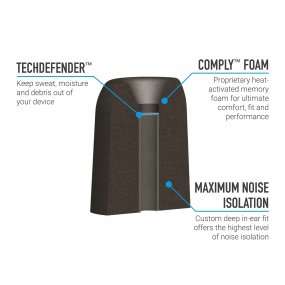 You spoke, we listened. CavCom is pleased to announce a new option in foam eartips for our universal communication earsets. The new Commander Tips have a special TechDefender™ barrier that allows clear radio transmissions while keeping out sweat, moisture, and debris like earwax. And no need to sacrifice noise reduction - Commander Tips are made of the same high-attenuation foam as our standard Canal Tips.
Commander eartips with TechDefender™ come in 3 sizes: SLIM/SMALL, STANDARD/MEDIUM, and LARGE (cores are color-coded by size). Contact CavCom for more information and to place an order. Commander Tips are available by the box or sample the new design with our Mini Variety Pack.

Comply and TechDefender are trademarks of Hearing Components, Inc.
Related Articles
Categories