New NIOSH Resource for Total Hearing Health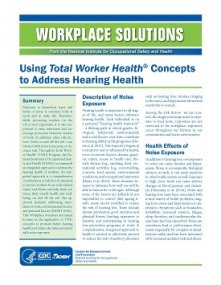 Through its Total Worker Health® (TWH) Program, the National Institute for Occupational Safety and Health (NIOSH) recommends an integrated approach to addressing the safety and health of workers. While protecting hearing on the job is essential, NIOSH recommends addressing noise risks outside of work as well.
Because exposure to hazardous noise is common in daily life, not just in the workplace, it is important to raise awareness and encourage healthy hearing habits outside of work. The TWH Program advocates for a comprehensive approach to improve overall health and well-being both on and off the job. NIOSH's new Hearing Health Solutions document focuses on promoting better hearing health and reducing the risks associated with noise exposure at work and at play. Recommendations are included for workers, employers, and hearing healthcare providers.
To learn more:
Related Articles
Categories